The Realm was hopping on Wednesday. Several FOW people were there and were either painting, modeling or creating buildings. Daniel and Paul had a big Strelkovy vs Finns game scheduled for later, but Pete was game enough to give me a game. I had brought my daughter with me because she wanted to see what I do with all the models tanks in my collection. Before the game was set up, she noticed there was a beading store in the same strip mall and was out the door and spent the next 2 hours over there. Girls!
Pete and I decided on a 1,000pt game. I originally suggested 600pts, but Pete said it's easier for him to slap together a 1,000pt force.
229th Separate Tank Regiment
HQ - M4A2
Company 1 - 7x M4A2
Company 2 - 6x M4A2
Pete's Grenadiers
HQ
Grenaider Platoon - 7 stands
Grenaider Platoon - 7 stands
AT Platoon - 3xPak38 50cm ROF3 - in ambush
Nebelwerfers - 2 launchers
Tank Hunters - 3x Marder IIIM
We rolled up Fighting Withdrawal.
Pete put his objective in the center (can't be removed) and I placed my two objectives on the flank to spread out his forces.
I arrived at the Realm with camera and notepad. I wanted to takes notes and then put the notes and pics to good use and create an AAR using
Battle Chronicler
.
Below is an exported map of the Deployment. (click on picture for 100% version)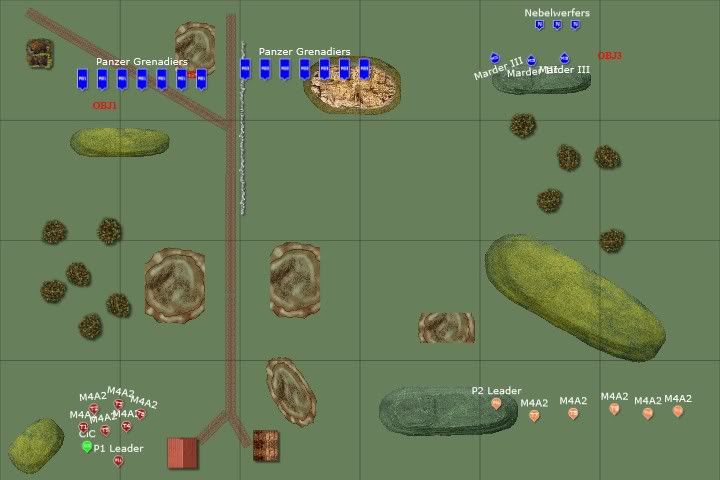 Turns 1 and 2 to follow soon.