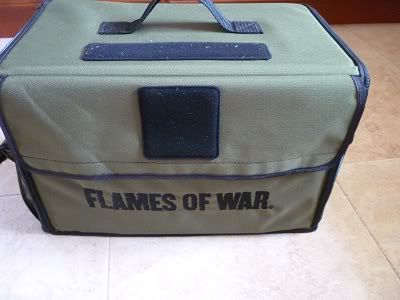 At the cost of $99, the Flames of War bag isn't cheap. However, I can say with confidence it is well worth the price. The good folks over at
Battlefoam
were contracted by Battlefront to produce the bags. Battlefront made a good choice. I had a chance to meet the Battlefoam folks over at 2009 GAMA convention in Las Vegas. They are fun, nice and listen to the gaming community. Rather than create generic foam trays, they wanted to cater to specific miniatures for each game system.
What follows are pics of my bag (currently housing the 229th Sep Tank Regiment and the 3rd Gv Mech Corps).
Side pocket for FOW dice tin.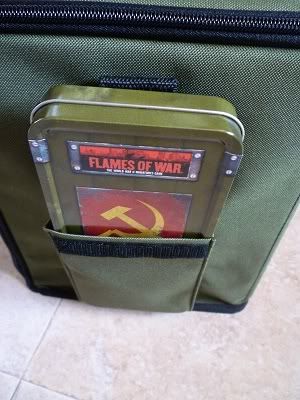 Large, front pocket for rule books and army books and misc. charts.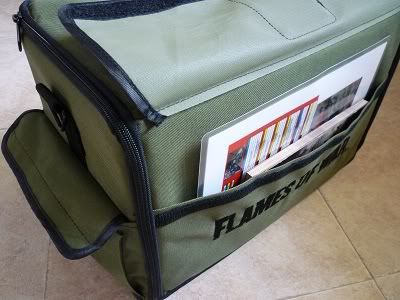 Bag unzipped. What's nice is that the side of the bag folds down when unzipped instead of unzipping the top. I had a Sobol zip top bag and I was dreading lifting the foam tray out. The foam trays usually "bowed" in the middle as I lifted, causing nervousness and tension until the tray was free. Here, the side of the bag unzips and folds down, granting easy access to the trays.
You get two foam toppers to protect the rest of the trays.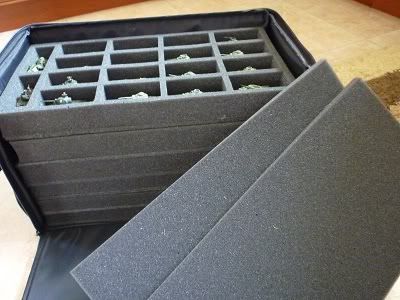 My one and only complaint about the FOW Army bag is that one tray is specifically dedicated to HQ stands (tray in foreground). It would have been better if Battlefoam had done a combo of HQ stands and regular infantry stands for a tray, rather than separate trays.
8x Large slots and 8x Medium slots. 5 large slots holding ISU-122 and SU-152. The ISU-122 gun barrel pokes into the side of the tray walls. The gun is that long. Here is where Panthers, King Tigers, IS-2 and other large vehicles will go.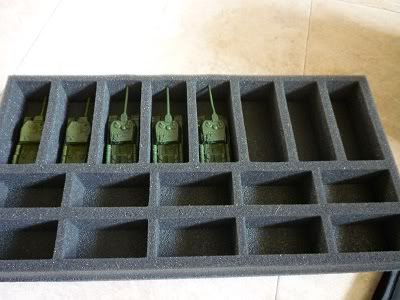 17 Shermans fit nicely into the medium-sized tank tray. BA-64's take the last slot. Nevsky is underneath the armored cars and his two platoon leaders are in two slots to his right.
You get another large tank tray and 5 small slots for cars and smaller vehicles.
A Panther with commander in a large slot. Look at the next picture...
The trays are 1.5" deep. The Panther commander just barely peeks above the top. King Tigers and IS-2 commanders will definitely poke above the top of the trays. Tigers with commanders are okay. Panthers, as you can see, should be fine. I spoke with Pete at our FLGS (The Realm), and he puts his King Tiger and Panther tank turrets and hulls into separate tray slots for his FOW Army bag.
I should mention the front of the bag has velcro space in front and on top to put a name and army badges which can be ordered from Battlefront. Also, I want to point out that the sides of the bags have hard inserts, giving the bag strength and also protecting the foam trays inside. Lastly, I really like the carrying handle on top. Other bags lack this. There's also straps loops on each side. I have my strap detached because I just use the top handle.
Well, that's the FOW Army Bag. I'm very happy with it. I purchased an airplane tray and a Rota Ravedki tray from Battlefoam, which just arrived today. I'll mix and match trays depending on the army I bring to play and keep the extra trays on a bookshelf or in plastic drawers to keep them safe. Budget allowing, maybe one day I'll get another bag for my German forces.
Painting credit: Panther is painted by GeekEGuy and can be found in earlier posts to this blog under "Better Painters than Me". He also painted Nevsky and two Sherman platoon leaders.
Thanks for reading. I hope you the reader found this review of the Army Bag useful.