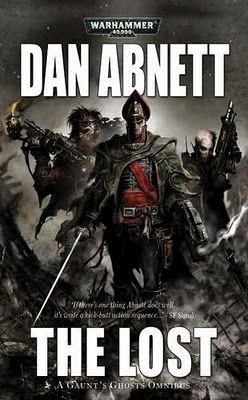 Work is ramping up and again the school bus known as "Dad" starts making the rounds anew tomorrow. I wanted to get a post in before the busy week sets in.
I'm an unabashed new found fan of Dan Abnett's writings, in case I haven't mentioned it before -- and I have. I needed more reading material last month and picked up the Omnibus collection of The Lost, which is the newer of the
Gaunt's Ghosts
novels. The Omnibus contains the latest books 8-12 (we're talking 900+ pages). Normally I don't start reading the last books in a series. However, I liked the titles of the Omnibus:
Traitor General, His Last Command, Armor of Contempt
and wanted to jump ahead in the mythology of Tanith's First-and-Only.
Even though I'm introduced to characters, already well established in the first 7 books, I had no trouble growing attached to them and figuring out their individual quirks and idiosyncrasies that Abnett uses to bring the characters to life. Any references to dead characters wasn't completely lost on me because the characters still have a sense of terrible loss that their companions and friends are gone from earlier books.
In the Omnibus, you get varied flavors of military sci-fi.
Traitor General
is a special ops story with most of the major characters.
His Last Command
adds a little intrigue to what happened in the first book before the big battles start. Finally,
Armor of Contempt
centers on one of the newer members of the Tanith First and we see epic scale battles through his eyes.
I think the strength of Dan Abnett's writings is his imagery. The opening few pages describing the assault on Gereon, in
Armor of Contempt
, is amazing. I pictured everything that was described and at times my head hurt thinking about the noise, confusion, the smells, and the fear the men and women of the Imperial Guard were experiencing at that moment.
I've read recently that the Gaunt's Ghost series of novels is very similar to the HBO Band of Brothers. I agree 100%. In Band of Brothers, you follow the exploits of E Company and the men of there is continuity with the men who make up that unit. It's the same thing that Abnett achieves.
Abnett writes some of the best military sci-fiction. He's now right up there with David Drake's Hammer's Slammers. Good stuff. Great stuff. Incredible stuff.
If you have never read Dan Abnett, pick up a novel about the Tanith 1st. You'll be hooked.
Mr. Abnett has a
blog
. You can find an excerpt to his next book, Propsero Burns, in the July 2010 archive.