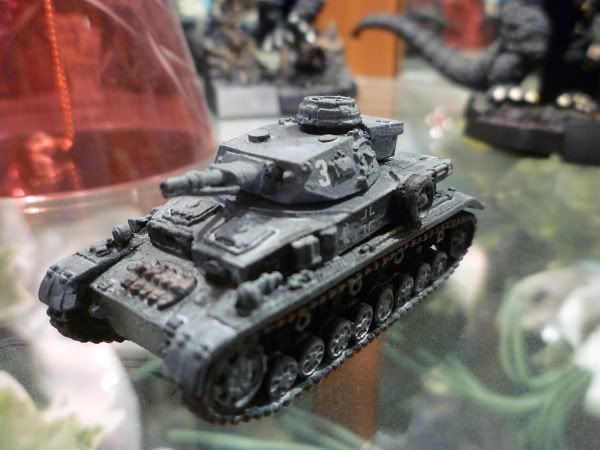 I went 0-for-3 in Flames of War games the last two weeks. No, I didn't lose 3 games; I didn't get to play 3 games. Family and work stuff came in at the last minute to derail my chance to get the games in. Last Wednesday, I was unpacking the army to set up when the phone rang. It was the woman and back in the bag the tanks went because I was suddenly needed back home.
C'est la vie!
In the meantime, I didn't like the outdoor photos of the Pz IV's I posted earlier. I've been thinking about buying a portable photo studio, but I'm not sure how often I'd use it.
I briefly used a shelf of the wife's curio cabinet because it has internal lighting. Yes, those are Godzilla figures in the back. She's nice enough to have me place them there amongst all her figurines.
The photos didn't burn out half bad and at least show the winter whitewash to better effect than the other photos.
Still undecided about the photo studio after posting. How much will the wife tolerate me moving her figurines out of the way to take pictures of tanks and infantry? Not much.