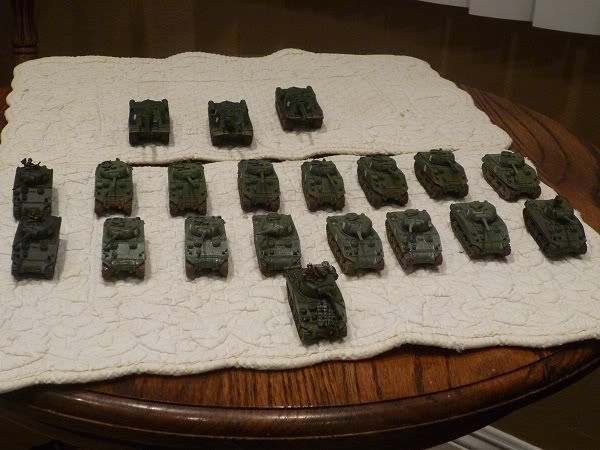 Yesterday I completed the last batch of M4A2 Emchas. I'm not happy with the way they look. The Army Painter spray blotched and powdered, which doesn't give a good surface for decals to bind. I'll chalk it up to a "teaching moment" on what and what not to do in painting. The lessons I learned can only help me with future painting projects.
On the other hand, I think the ISU-122's came out spiffy. They were primed with hardware store Krylon black and then the Russian Green was drybushed. I need to use Microsel and the techniques so the decals blend with the model and the outline disappears.
Thank you to GeekEGuy for V I Nevky and the two platoon leaders! Here's the two platoon leaders and the volunteers to soak up 75mm and 88mm German shells.
A blurry Nevsky (user error, not the 12MB panasonic camera) and in focus Emchas.
The only thing missing to complete the 1,750 force is Red Air Force IL-2 Sturmies and a squad of Spetsnaz.