I despise painting infantry. I'm too methodical. I'm too much of a perfectionist. I cringe when I make an "error". My painting skills make cute kittens weep.
Okay, okay, I might be exaggerating a little. =)
My point is, it will take me awhile to paint up an infantry platoon of any size. When I see the infantry that Rich "GeekEGuy", Steve "indierockclimber", Carlos "Sentinel", Bill "Gothmog", Ryan "RJM Miniatures" and numerous other great painters out there I just sigh.
They are great painters and it's a joy to see what they come up with when they post samples of their work at the FOW Gallery.
Still, I've had a blister of greatcoat grenadiers sitting in the bin for months. I finally decided I should paint them. I have my daughter to thank for kicking me in the rear with motivation. Okay, she guilted me into starting by saying I was hurting "their" feelings leaving them all alone in the blister. Or maybe it was the fact she got hired to paint a squad of 40K Termies (more on that later with pics).
Here's the commander. He turned out alright. What I struggled with the most is drybrushing the german grey (with white mixed in) for highlighting. I messed up the brush work and it gave the coat a dust-look. I went back and hit the recesses with german grey again to provide shading.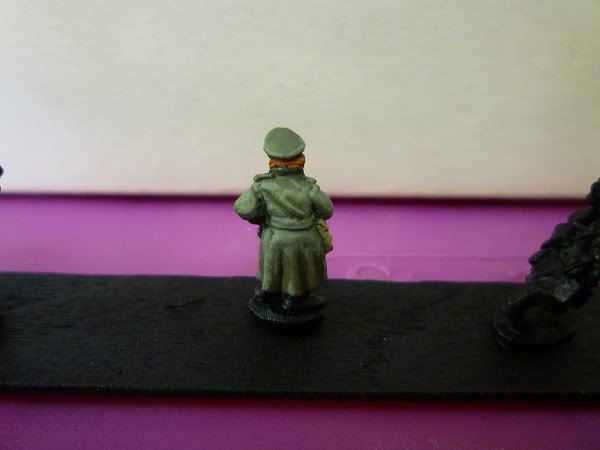 The one area I'd like to do better is the faces. Instead of dots for eyes, I want to paint a "T" and "U", leaving the black primer to give definition to the mouth and nose.
It took me 2.5 hours to paint this guy, doing about 20 - 30 minutes at a time. At that pace, I'll finish 7 stands of infantry by 2012! LOL
On a side note, I want to shout out Steve over at WWPD. His blog is "Blown Up". He's also a featured writer at Bell of Lost Souls, writing about FOW. Now, he and his buds are planning a monthly podcast!
Great work, Steve! You're an example of the FOW community needs to keep this great game growing.