Now that I am building an army and expect another one to be included in the future, I thought it was time to find a carrying case.
The Flames of War Forum has a good discussion about carrying cases:
http://www.flamesofwar.com/Default.aspx?tabid=126&forumid=6&postid=446539&view=topic
I also met the folks of Battleform at the GAMA 2009 convention in Las Vegas. Nice people with a great and customizable carrying case. They will cut out the foam to your specifications.
http://www.battlefoam.com/
After reading the forum post, I took a trip to WalMart and found a Plano case. I knew right away it would work. Check it out.
Notice the 3 plastic trays that slide out.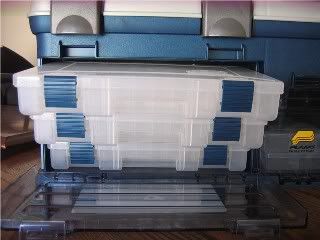 Top opens and provides a spot for paints, brushes or gaming dice. Large bases of infantry and vehicles can go here too.
Blurry picture of a tank. Foam from the blister packs provides a cushion.
I can get anywhere from 12 to 15 vehicles in each tray. The Lend Lease army has 25 vehicles, while 11 PD has 15 vehicles. I think the Plano case will be able to hold all of them plus infantry.