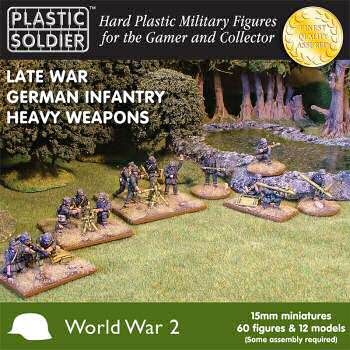 PSC's latest update for 4/10/12.
Four x tripod MG42s, four x 82mm mortar teams, four x 120mm mortar teams, eight x panzerschrecks, eight x panzerfausts; 60 figures and twelve models for £16.50.
What's more interesting is this blurb from the PSC website.
May/June/July will also see a change in the release schedule. Due to popular demand the Stars and Stripes will be fluttering above PSC HQ - the Yanks have been bumped up the list! 15mm Sherman M4A3 (late), 15mm US Infantry, 15mm Sherman M4A3E8 Easy Eight and 15mm US heavy weapons will all be appearing. 15mm M3 halftracks, tank destroyers and Priests will not be far behind.
Odd timing. BG&G hits the stores this Friday (according to two LGS I called today). BF's new Shermans come out in May. Look, PSC is coming out with the same American tanks at the same time! Interesting....
All I can say it's a great time to be a 15mm wargammer. There are multiple rulesets to try, several miniature manufacturers, paint suppliers, books, Google, etc, etc.