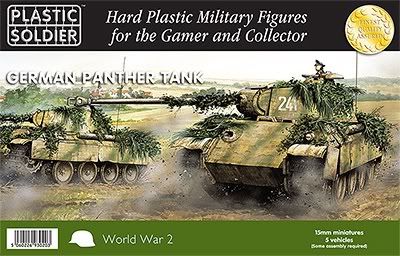 PSC updated their
site
and the long awaited and hoped for
Panther
will be here very soon.
The price is quoted at £17.95, which equates to almost $27.50 before shipping. Depending on where you buy your PSC goods, you're probaby looking at roughly $6.50 per tank. In case you're keeping score that's half the price of a Battlefront Panther.
What I particularly like is the late G model with the chin mantlet. It's my favorite version of the Panther.
I can't tell though if the hull and turret are sculpted with zimmerit paste. The assembly instructions below don't hint at zimmerit, though the box art does show the paste. Wait and see, I guess.
I'm really curious how BF is going to respond to PSC plastic kits that are roughly half the price of bisters and also Zvezda with their line of snap-together Barbarossa kits. Otherwise, a big chunk of their sales is going to further erode. If a newbie came to me about FOW, I'd point them to PSC where he can get his basic Sherman, half-tracks, T-34's, Panzer IV, Panther and you know PSC is going to do Tigers and other of the more commonly used WWII vehicles.
Anywho, I'm very excited to see this update. There's already 16 responses on the WWPD forum.
In other news, I played two games yesterday! The mind boggles. I actually won one of them! Inconceivable. AAR's to be posted once I sort through 70+ pics. I think I'll try StevieMac's Batrepper.
PSC Panther assembly guide below---